settings:cahyali:nulllabyrinth
Table of Contents
Null Labyrinth
Government Type: City-States

Symbol: Various (each city-state has its own)

Major Races: Undead, Elves (Drow), Dwarves (Duergar), Elementals

Capital: None
The Null Labyrinth is impossible to map, as there are no fixed landmarks or environments save for the cities. Locations move and shift constantly, and space as we know it within this underground realm is more of a suggestion than a law.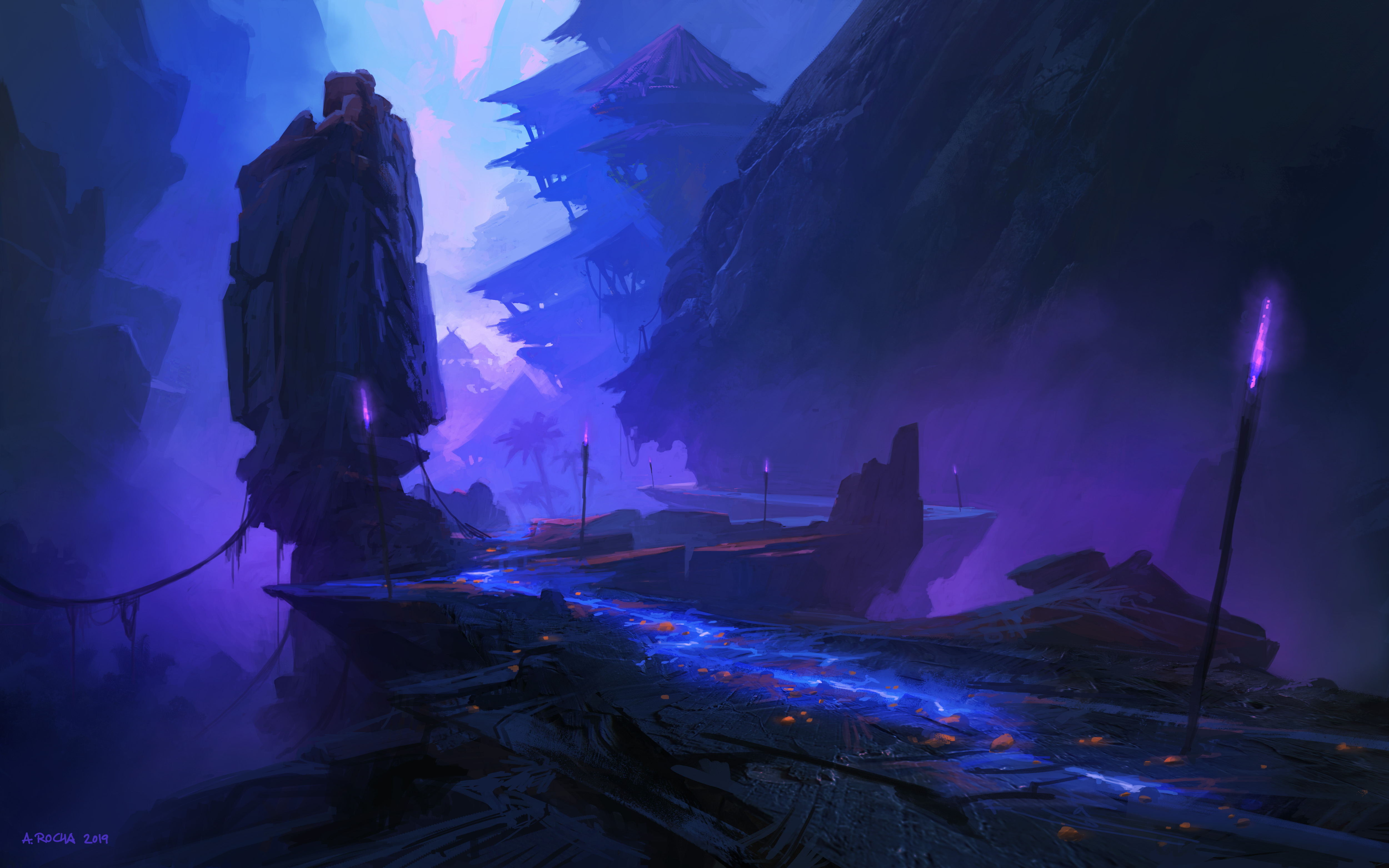 By Andreas Rocha. Used with permission.
Overview
Environment
The Null Labyrinth does not exist fully within the plane of Cahyali, and is anchored to the plane through ancient magic or technology. There are only a few fixed or 'stable' locations that do not change in the labyrinth, and all other locations are in flux. Permanent residents of the Labyrinth have studied and have an innate understanding of the rhythm of the changes of the labyrinth, and as such are able to travel through the labyrinth somewhat easily. Explorers and adventurers regularly hire such guides on their expeditions.
Overall, the Null Labyrinth makes up a massive cave system stretching across most of known Cahyali, and likely even past Esrior's Fold. Some have theorized that traveling through the Null Labyrinth is one of the ways to pass the Fold, but navigating the Labyrinth is a herculean task even for those who live within it. The less anomalous underground realms of Buyuk and Itlan-Youali connect to the Null Labyrinth, though very few residents of either world venture into the Labyrinth's depths.
The environment of the Labyrinth is surprisingly alive for such a strange place, with caverns lit by glowworms and bioluminescent fungi. Living residents subsist on fungi, and the few odd sorts of fauna who live down here. In places, the cave ceiling is so high that fog can develop from activities of life below… giving the space above something resembling a sky.
People
Over half the population of the Null Labyrinth is undead, although the restrictions applying to most undead seem to be - well - null down here. For example, vampires within the Null Labyrinth do not rely on blood to live, and preserved undead such as mummies do not fall apart over time like they do on the surface; this applies even to temporary visitors. Many believe that the Arcane Font provides energy for these undead and allows their rather peaceful existence.
While the settlements of the Labyrinth don't count these into their populations, many of the caverns' wilder areas are haunted by undead without minds or selves; undead that appear not to benefit from the strange vitalizing properties of the Labyrinth and attack living beings on sight. These types of undead, termed "hollow ones" by Labyrinth residents, are strikingly more common near ancient ruins.
The living residents of the Null Labyrinth are primarily elves and dwarves. These individuals have adapted to the environment over centuries, and are markedly different than their surface cousins. It is thought that the first populations of elves and dwarves arrived in the Labyrinth tens of thousands of years ago, and a small yet steady stream of new arrivals has been coming ever since. Termed drow and duergar, respectively, they mostly have white or light gray hair, skin in desaturated shades of gray, blue, and purple, and keen eyes with red or white irises.
Elementals are also common here, with many children being born touched by the different planes. Most simply attribute this to an effect of the Arcane Font. Minority populations of most other races exist in Labyrinth settlements, though none have been here as long as the drow and duergar have - many arriving, at earliest, during the era of Imperial Dahabu in an effort to escape from the invaders.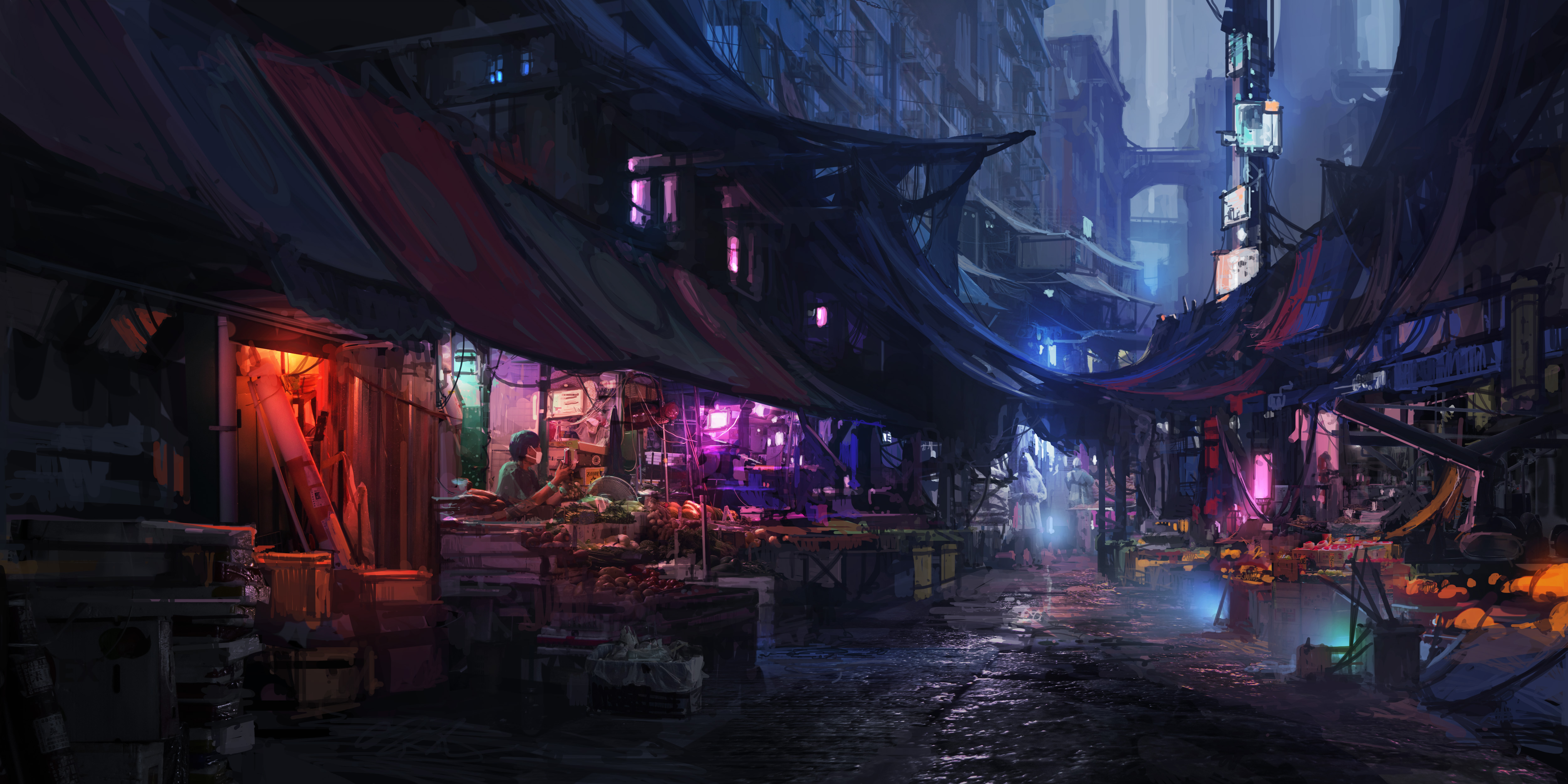 By Andreas Rocha. Used with permission.
Fixed Landmarks
There a few known fixed locales within the Null Labyrinth that explorers have charted. Many appear to be remnants of an ancient civilization, so old that not even the most ancient, crumbling undead residents know much about it. The architecture of these landmarks is similar, and bears no resemblance to any other Cahyalian style. Archaeologists and historians have named this civilization Tarra, from partially-translated text found in the most complete set of ruins. Nearly nothing is known about Tarra; who they were, where they went, or how they fell.
Null Caldera: The caldera of an ancient volcano, where Tarran ruins, named the Arcane Forge, are located. Directly beneath is the Arcane Font. A fixed location, located about a thousand miles off the cost of Ley'Ork underneath Ulosian territory. The volcano this caldera is part of has not been active for thousands of years.
Arcane Font: A hidden and guarded well of magic that leaks forth from a different plane, a source of extraplanar power. Believed to be one of Cahyali's few leysprings: a massive source of arcane energy. Some scholars posit that the effect of the Arcane Font is what gives the Null Labyrinth its abnormal spatial properties.
Ruins of Khaeritara: What remains of an ancient Tarran city, long deserted. The most complete and oldest Tarran city to be found, to date. It is now haunted by silent spirits and malevolent, mindless undead. A fixed location, approximately underneath Dahabu's Al-Kharshi Bay.
To date, no adventurers or explorers have managed to breach the deepest levels of Tarra. According to legend, the inner sanctum contains some sort of control system created by the Tarrans. These controls are magically linked to the Arcane Font, and allow a precise level of control over the Labyrinth's space. None know what form the rumored controls take, however, or how they're operated.
Regions
Regions mostly stay consistent internally, although the relative locations of regions to each other and reference points on the surface are in constant flux.
Mycas Fields
A giant cavern, about 300 miles across, filled with a veritable forest of giant fungi. These fungi are growing on an organic substrate of unknown composition that defies logic and identification. No other plants can grow on this material, not even surface fungi. By far the most populated region of the Null Labyrinth, and home to about 75% of the caverns' living population. Most explorers from the surface arrive here, as a persistent portal between Menghormati (in Ulos) and Abberath exists and is open for authorized travel. Technology is more common here, as travelers from Ley'Ork, Ruefang, and Shinneok have brought in various technologies for trade. Cities in the Mycas Fields include:
Abberath: The only place in the Null Labyrinth that can really be considered "metropolitan". A surprisingly bustling place, full of life despite the relatively hostile conditions. The city is built on top of ancient ruins, and is governed by a council made up of seven merchant and artisan guilds.
Barathrum: A medium-sized town within the jurisdiction of Abberath, notable for its construction on the wall of the cavern; the settlement is mostly vertical instead of horizontal, and Barathrum residents are quite used to moving up and down in pulley systems and rudimentary elevators. This town concerns itself with the mining of precious metals and gems to export to Abberath.
Vathys Network
A series of thin cave tunnels, some hardly big enough for a gnome to squeeze through. However, some of these tunnels open up into impressive giant geode deposits or caverns large enough to forge small settlements in. The Vathys Network is a major exporter of mined goods, and is almost entirely populated by undead. It is considered an "in-between" space, as it connects other major regions of the Labyrinth most of the time. Those who know how to navigate Vathys are in high demand as guides around the Null Labyrinth as a whole. Cities in the Vathys Network include:
Void's Crossing: A small city, built around a church venerating a being they call "The Astrum". The worshipers of this deity are referred to as Null Cultists by the outside world, and travelers navigating the Vathys Network generally try to avoid passing by this location. Void's Crossing is constructed in strange, rather disturbing organic shapes, with the architects claiming to derive divine inspiration from the Astrum for their projects.
Manilla: A town built within a giant geode deposit, with impressive streets and buildings hewn out of glimmering quartz crystal. This town is relatively new, having been built by Astrum worshipers who left the faith and were ousted from Void's Crossing. Although Manilla is attempting to establish contact and relations with other Labyrinth settlements, their sordid origins make many other cities highly suspicious of them.
Aixlynn Lake Area
By far the deepest cave in the Labyrinth, with a multitude of rivers flowing in and out to form a large lake at its bottom. The land around this lake is full of life, and the waters themselves are full of odd eyeless fish adapted to the dark. The cave ceiling in this area is so high - over 7,000 feet - that clouds can form and precipitation, while rare, does on occasion fall. This lake is one of the few places in the Null Labyrinth with a regular supply of meat, and most towns on its edge concern themselves with a living in fishing.
The Aixlynn Lake area is also notable in that the ceiling, at times, opens up to Cahyali's surface, and it is believed that most people to arrive in the Labyrinth fell down on accident during such incidences. Surface opening events occur approximately once, sometimes twice per month in completely unpredictable areas. When it happens, expedition groups are rapidly sent out to survey what they can before Aixlynn Lake moves away again. Cities in the Lake area include:
Skytown: A scouting outpost of splendid sights, located at the very top of the Aixlynn cavern. The buildings are suspended in midair by enchantments and rocks suffused with a magical mineral the locals call "plaustrite", which appears to have some similarities to both milphite and gold-obsidian. Various large boulders are chained to each other and the cavern walls to prevent too much movement. When the ceiling of Aixlynn opens, word is quickly sent down from Skytown to the villages below.
Aixii Villages: The collective term for the various villages constructed around the banks of the Aixlynn Lake. Most of these villages engage in fishing day-to-day, and rotating groups from different villages are sent to Skytown on a monthly basis or so to keep watch for ceiling openings, which the Aixii refer to as "sunburst events" due to the downpouring of sunlight into the cavern.
Acheron Pits
This series of medium-sized caverns is notable in that many of them contain strange pits of swirling fluid in many different colors. These pits seem to be portals to other planes, though their connection is weak at best and it is just as likely that nothing will happen at all as it is that one will actually go to the other plane. On occasion, extraplanar entities are found stranded in Acheron, such as elementals and fiends. Some come here to hunt these creatures for rare ingredients and loot, although there are no permanent settlements here.
The largest pit rings a small, perfectly circular island, upon which a massive portal gate stands. It is inactive, but can theoretically take one to any plane they desire - as long as you can figure out the controls, which feature the Tarran script: entirely alien to any known civilization, past or present, Cahyalian or Jaernian. This place, termed the Acheron Gate, is a fixed location located at a point below the northwestern coast of the Vervand-Arenti border.
Running Null Labyrinth: Outdated document on the general structure of the Null Labyrinth.
settings/cahyali/nulllabyrinth.txt · Last modified: 2023/09/21 22:39 by quiddlesticks
---